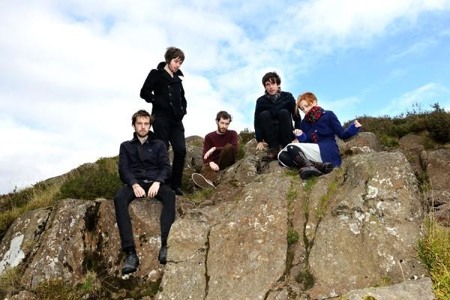 My second choice for a band to watch out for in 2012 are Glasgow five piece, Olympic Swimmers, a band who have been simmering away quite nicely for a few years now. Featuring members of Strike The Colours, The Unwinding Hours and the soon to be defunct Take A Worm For A Walk Week, they are all set to step step into the lime light with the release of their debut album which is due out later this year.
Hello, I'm Lloyd. Who on earth are you?

I'm Graeme and I play bass in Olympic Swimmers, a band made up of my favourite people: Susie Smillie, Simon Liddell, Jonny Scott and Jamie Savage. We formed in Glasgow in 2009, have self-released two EPs, and had the pleasure of playing with lots of great bands in that time.
Seeing as your one of my 'Ones to Watch', what exactly should everyone be watching out for from you in 2012?
We will be releasing our first full length album which we've spent the second half of 2011 recording and mixing, between all the various other jobs and musical projects that everybody in the band is involved in. We have recorded it with Iain Cook, who Jonny and I play for in The Unwinding Hours. Iain is a bit of a genius and has taken on many roles in the recording of this album, ranging from producer, engineer, therapist and friend. He is also mixing it and mastering it. In essence he is judge, jury and executioner, and really has went above and beyond the call of duty on many an occasion. We are getting together some visual delights to accompany the actual music, and should hopefully just be popping some up online as and when they are finished, in the lead up to getting the album out in its entirety. We're pretty excited about letting people hear it, and think it's a big step forward from the previously recorded EPs, although the album will include a couple of older songs from them. We're really looking forward to playing a lot more live shows, hopefully in places we have never played. Also, looking to start getting new songs together as soon as possible in preparation for number two, should we ever have enough money to record it. Which would be amazing.
A Curse Or A Blessing
by
olympicswimmers
Home
Bandcamp
SoundCloud
Facebook
Twitter