Some bands just don't do conformity, in the majority of cases this can prove to be a royal pain in the arse. The exception to the rule in my case is noisy as fuck three piece
PAWS
. As you've seen from my recent posts, I have been asking bands to choose their album of the year. So what do PAWS do, that's right they come back with their favourite 7" of the year. So what's a boy to do, other than just go with it, fuck it, it's
PAWS
and I love this band. Anyway here's Phil from the band to tell you a bit about why he loves this little bit of vinyl...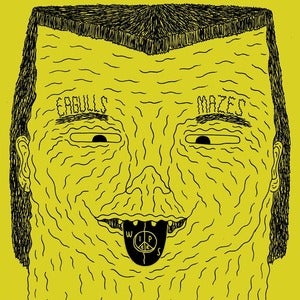 Mazes/Eagulls
Wipers Covers Split 7"
Italian Beach Babes Records
"When I picked this record up I was only familiar with Mazes. We played one show with them and I thought they were great. They told me they were putting
out a Wipers 7" and I was very much in favour. After the show I had forgotten all about it and then stumbled accross a copy at Rough Trade East when
PAWS played a show in London. I bought a copy and stuffed it into my backpack with my clothes.
We played our show and the next day we heard Mazes and Eagulls were playing that night at the 100 Club. Me and Josh had a few hours to kill before our bus at
midnight so we went in search of the 100 Club. When we arrived we met this woman that had a ferret on a leash outside the club. Weird town man.
I think it was a night hosted by Converse Shoes. It was a bit strange.
Eagulls come on and none of them are wearing shoes. The only shoe in sight is a single Converse Trainer on the stage that has "cuntverse" scrawled on it with a marker.
POSSESED
punches me in the face from the get go. I listen to it when I get out of bed in the morning and it prepares me for the brutal/boring day ahead. "I don't want to know what
you think, I know something Else. I'm possesed."
Possessed by eagulls
MYSTERY
is one of the best covers I've heard in a long time. I love The Wipers. It's the perfect song for Eagulls to have chosen to include on this record. The chorus makes me
shake my fist when I'm even just alone in my room. "You! Don't care about it!. You! Don't care about it!"
Mystery by eagulls
Please go and listen to more
EAGULLS
here
.
Upon return to Glasgow, that 7" hasn't left my turntable. They are my new favourite band.
MAZES
are also one of my favourites from this year. Their track "
Most Days"
from their debut album
"A Thousand Heys"
has been a big highlight for me.
FAREWELL SUMMER
is a more recent recording from the band and a total treat. Named after the book by American author Ray Bradbury, one of my favourite writers.
This pop treat is the perfect way to bid farwell to this summers bogus ammount of sunshine. Good hooks, goodbye summer.
Mazes- Farewell Summer by italianbeachbabes
MESSENGER
is another Wipers favourite for me. A song about bad news. I've had so much bad news this year from various messengers. This song makes is it all better.
Bouncy garage rock at it's best. It has celabratory and steadily driven rythym that would make even the most messed up bad new shake it's hips. "You got me all choked up".
Mazes- Messenger by italianbeachbabes
I think these were limited to 500 tour singles. See if you can still get your paws on one..."
If you're quick off the mark then you actually can still get yourself a copy of this 7" using the following
link
.
You can also catch PAWS live this coming Sunday (18th) at the
Glasgow Podcart's Nightmare Before Christmas
do at the Captain's Rest alongside, As In Bear, Citizens and Lady North.