I did say last week that I am also involved in a couple of other projects at the moment. Yes, I know I am fucking idiot. Who in their right mind takes on even more stuff on top of everything I already do, plus add the addition of the arrival of Erin (Peenko Jnr). So far I have found that cutting back on sleep helps do a lot more, although it does make me a right ratty fecker at times. Then again I enjoy what I do, so I shouldn't really complain, although a couple of extra hours in bed would be nice. Anyway, enough of me moaning, I've done enough of that already, it's about time that I told you a bit more about some projects that I have been asked to be involved in.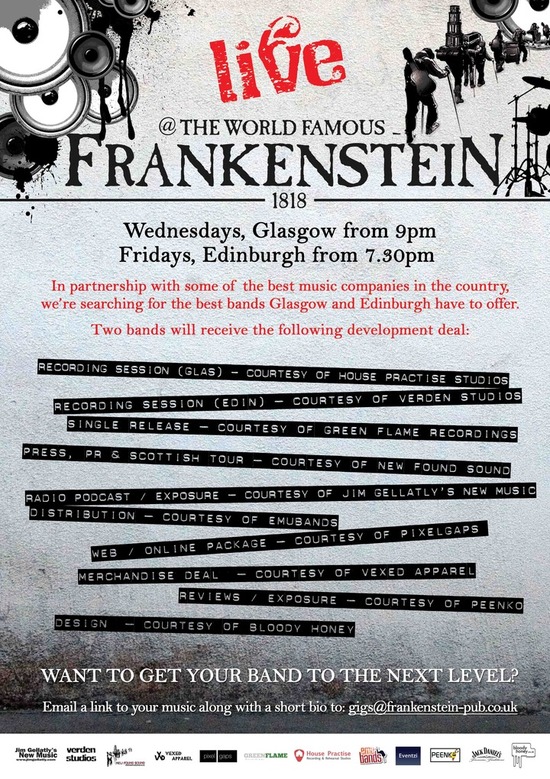 The first project I am still getting to get my head round what they want me to do, but it does sound pretty exciting. Basically the good folk over at New Found Sound have launched an exciting new project, promoting up and coming Scottish artists.
So how are they going to be doing this then you might wonder. The plan is to host regular nights at the Frankenstein venues in Edinburgh and Glasgow, showcasing local talent. Taking place on Wednesdays in Glasgow and Fridays in Edinburgh, the events are aimed at unearthing local talent and giving them exposure to some of the coolest music companies in the country including record labels, studios, merchandise companies, touring, press (I think that I come under the umbrella of press, although I would argue that I certainly don't fall into the category of cool).
All bands that perform on of the evenings will apparently be well looked after (they'll feed and water ye), plus every artist will get an exclusive discounts from every sponsor.
So that's pretty much all I know for no, I did ask if it was like a Battle of the Bands, but apparently that was pretty wide of the mark. That being said, it still sounds like one to me, I am not against the idea, as I like the idea that you can bring in an array of people that give it a degree of credibility. Far too often in this country we turn our noses up at things like this.
It's daft that we look down on people when they try to do something this constructive, it's almost as if the hipsters have won. Anyway, that's enough of my ramblings, here's the important stuff that you need to know....
This is open to bands in any genre from metal, rock/pop to singer songwriters and solo acts and open to bands anywhere in the Country. Some of the Country's most reputable music companies are supporting the series with the following on offer:
• Recording Session (Glasgow) – Courtesy of HOUSE PRACTISE STUDIOS
• Recording Session (Edinburgh) – Courtesy of VERDEN STUDIOS
• Single Release – Courtesy of GREEN FLAME RECORDINGS
• Press, PR Campaign and Scottish Tour – Courtesy of NEW FOUND SOUND
• Radio Podcast / Exposure – Courtesy of JIM GELLATLY'S NEW MUSIC
• Distribution – Courtesy of EMUBANDS
• Reviews / Exposure – Courtesy of PEENKO -
look it's little old me, in amongst a load of important sounding folk
• Merchandise Deal – Courtesy of VEXED APPAREL
• Website / Online Package – Courtesy of PIXELGAPS
• Design – Courtesy of BLOODYHONEY
If you are interested in getting involved
just click this link to find out more
, in all honesty it seems like a cracking wee idea to me. If you're an up and coming artist why not give it a go, there's no point in looking a gift horse in the mouth.
The other venture that I have been asked to get involved in comes from
Eli & Oz
, a new digital label set up by a lovely lady by the name of Jen Anderson, whom The Pop Cop appointed her with the cringe worthy title of 'King Maker'. The plan is that her label will release monthly digital singles featuring 'the best Scottish bands'. In coming months they have singles from the poptastic Bear Bones in December, followed by a single with Peenko favourites the Son(s) early in the New Year. After these releases things get more interesting, as Jen has devised quite a novel idea which brings together an array of talented folk from the Scottish music industry, and me.
The premise seems pretty straight forward, each month Jen picks out 5 bands who have submitted some of their music to Eli and Oz. These songs are then sent out to a list of folk who work within the Scottish music industry, they then put the bands in order of who they think would be the next best release. Whichever band is the most popular is then be released on the label. Personally I think it's a cracking idea, simple, yet brilliant. I am not just saying that as I got asked to be involved, honest guv.
Also, before anyone starts moaning about it (not that I am trying to suggest us Scots whinge!), no band will be 'out' because they didn't win, as they will probably come up again in another vote. Below are the five songs that we have to choose from, now I am not 100% if I am supposed to be sharing this with you, but I am of the opinion that a bit of transparency can't do any harm.
Just so you know, the judges are as follows:
Simon Singleton (Pure Groove record store)
Mikey Stirton (Fourthfloor Music Management)
Robert Hicks (Beyond It Promotions)
Ross Morrison (Agent at Primary Talent)
Craig Michie (A&R at Chrysalis)
Yvonne McLellan (A&R at Island)
David O'Hagan (A&R at Mercury)
Vic Galloway (BBC)
Jim Gellatly (Radio Magnetic, Original 106, Amazing Radio)
Jonathan Geddes (The Herald/Evening Times)
Tim Barr (News of the World)
Lloyd Meredith (Peenko)
Ally McCrae (Detour)
David Weaver (Detour)
Andrew Maitland (Booker at The Arches)
Avril Cadden (Sunday Mail)
Jason Edwards (Agent at 13 artists)
Jenny Myles (Toast Press)
Craig Johnston (DF Concerts)
Dave McGeachan (DF Concerts)
Craig Wylie (Mean Fiddler)
Grainne Braithwaite (Synergy)
Andy Cook (agent at CAA)
David Mogendorf (MTV)
Hazel Berry (Berry Branch Music Management)
Paul Cardow (PCL)
Stuart Thomas
Matthew Young (Song By Toad)
If I am honest, it still feels pretty odd to be asked to do these kind of things, the perception of me being some kind of taste maker still feels pretty odd to me. That being said Halina from Glasgow Podcart brought down a peg or two the other week by telling me my music tastes were shite. Then again we have set up a label together, so I am not quite sure how to take that!
If you fancy your chances of being considered for future release by Eli and Oz, then you can upload a track to their
Soundcloud page
(make sure that you click the 'share button' though).