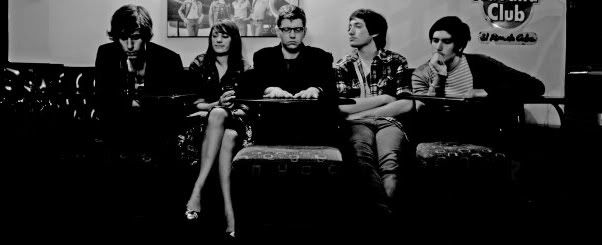 Today sees the release of the debut single by the excellent French Wives, a band who I have been enjoying for quite a few few months now since they were featured on
Under the Radar
. They are also a band that got me into shit with my better half, you try explaining to the one you love most, why you have been googling foreign married ladies and see how far you get, before you realise that you're just not going to win.
Anyway, I digress you might remember the French Wives from my
Rockness
post earlier in the year, well now the Glasgow quintet have released their debut single, 'Halloween/Dogfight'. Out now on Glasgow label,
Instinctive Racoon Records
, who boast a roster including Ross Clark, Washington Irvine and Three Blind Wolves. Their songs remind of early eighties pop, with a definite nod to Postcard Records in there. I have posted a stream so you can listen to both of the songs, it should give you a much better idea of how good this band really are.
The single is available to do download from all of your usual sites, with a limited run of physical copies available in various independant Scottish record stores (
Avalanche
and the like). I have high hopes for these guys, remember the name, and hope that your other half does too or you might have some explaining to do.
You can see
The French Wives
live here:
31st Oct - The Research Club (Single Launch Night), Glasgow
1st Nov - Sneaky Pete's, Edinburgh