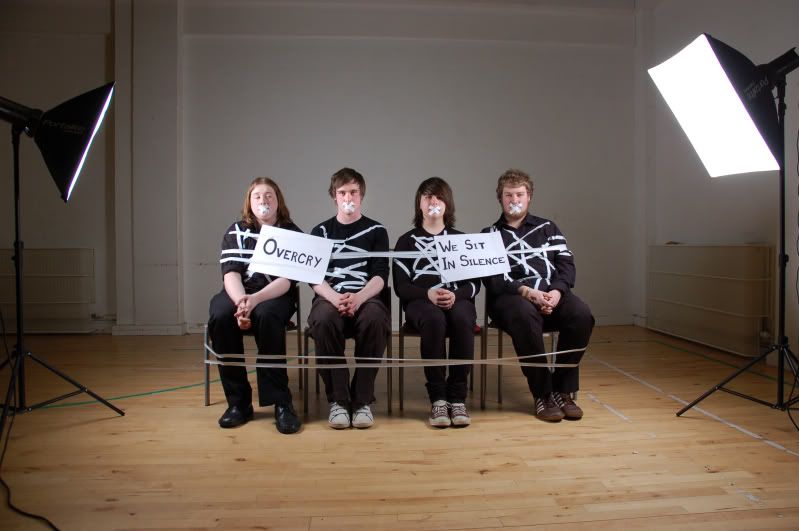 Right first things first, you are going to have get over the fact this picture makes them look so
emo
it hurts, as they really aren't another My Chemical Romance wannabe band. . Hailing from
Croy
just outside of Glasgow, the four piece cite their influences as Pink Floyd and the Editors (seriously guys?), personally I can hear a bit of Twilight Sad in their, that's mainly down to the vocals though, not surprising though as they do hail from the same neck of the woods.
Here's what some proper journo types had to say about them....
It's back to the band's strengths for closer Mortigi Tempo - a seven-minute, meandering Mogwai-esque epic that eases you out of Overcry's world. But you'll definitely want to go back.'' Rick Fulton, Daily Record, July 2008
"Overcry's debut EP 'We Sit In Silence (New Town Independent) ••• is a twin pronged offering – two sprightly guitar pop tunes alternate with a pair of darkly-lyricised pieces with an Arab Strap/Twilight Sad feel." Stuart McHugh(The List), April 2008
"An indeed promising CD from the local band Overcry. The vocal's are powerful and strong and sound distinctive from many other bands in that genre. Compared to main stream Indie nowadays, We sit in Silence features heavier riffs, which suits the vocals nicely. However the production is sometimes misses to hit top marks. The guitars could be a bit edgier. But this is excused considering Overcry's youth and potential...if they work on it it's gonna be great...for those who are into Indie and do not require recommendations from the NME" Subcity Radio(Glasgow University), April 2008
Their debut
EP
'We Sit in Silence' (hence the
emo
photo) is available now, or you could just down it below.
Download

EP
Myspace
Last

fm
Overcry

play the Captains Rest on the 30

th

of April