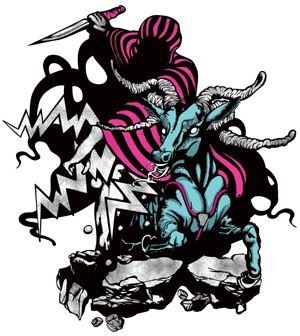 So last year Glasgow got it's own version of the Camden Crawl, with the Sauchiehall Crawl, and now two more have jumped on the bandwagon/blatantly just nicked the idea. Hinterland was the first and now we have the 'Stag & Dagger' festival, which is basically the same set up as Hinterland, except it's only a tenner (with no booking fee) and it's on a Saturday (Hinterland is on a Thu & Fri - not much use to folk who have to work for a living). The venues being used are the Art School, the Captains Rest, the Admiral, Stereo, the Classic Grand and Nice n Sleazys, all pretty spread out then, so it might be an idea to plan ahead if you want to see any of the bigger bands, as Stereo to the Captains Rest isn't exactly a 2 minute saunter away. As for the line up, it looks not bad, but then again I would say that as it has the Twilight Sad down.
So here's the line-up (copied & pasted)
COLD WAR KIDS, THE MAE SHI, CURSIVE,

TWILIGHT SAD

, ABE VIGODA, ANDREW WEATHERALL, MAPS, JAMES YUILL, RUSKO, N-TYPE, WILD BEASTS, FILTHY DUKES, , DAN BLACK,

PHANTOM BAND

, MICACHU AND THE SHAPES, VIVIAN GIRLS, MARINA & THE DIAMONDS, TELEPATHE, DUCHESS SAYS, THE JOY FORMIDABLE, DANANANANAYKROYD.

MAGISTRATES (DJ SET), SOY UN CABALLO, HIGH RANKIN, N-TYPE, TOMB CREW, DJ SLUGZ, ED-DL, MOODIE, MAXMILLION, WE HAVE BAND, YOUR TWENTIES, PLUGS, TRAILER TRASH TRACYS, EX LOVERS, LET'S WRESTLE, TUBELORD, THE VIRGIN PASSAGES, MALE BONDING, ARCH M, YOUNG TURKS, YOUNG & LOST, PURE GROOVE, CASPER C, GIRLCORE, DE DE MOUSE, 80 KIDZ, RIDDIM SAUNTER, TUCKER, ME MY HEAD, THE SPOLKESTRA, AGASKODO TELIVEREK, ARTHUR DELANEY, ME MY HEAD, UNGDOMSKULEN, TROUBLE RECORDS
Apparently not all of these bands are playing in Glasgow, but the ever so helpful website doesn't say which ones, oh and it runs from 6pm - 12am, sounds a lot more fun than Hinterland in my opinion.
Stag & Dagger
Tickets